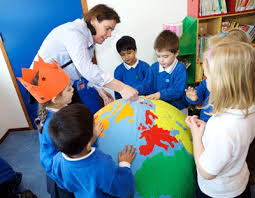 Helping your child with homework is never a bad thing to do because some parents think that it's interrupting them and it won't help them learn by their own. But actually when you help them with their school work this will show that what they do is important and also you too can get to know their learning skills, drawbacks and also it help them to learn better when you show interest. Here are some tips for you when you are trying to make a better study environment and help them in their schoolwork.
How to make the best study area?
For this you can either create a separate place in their own room or if there's not much of space you can take it to a place where you can place a table and a chair. Make sure your children have a well lit place to do their work. A study lamp would be great and also you need to make sure there are no other distractions in this place. Some of these distractions can be loud music, phone calls and TV programs. So, check for a place that doesn't have these distractions and keep them away when your child is concentrating on work.
Keep everything within reach
It's essential to keep everything within reach like papers, books, papers, pens, scissors, pencils and glues. So, for this you can fix some floating shelves within their reach or even purchase a book rack for them. Check for other stationery holders to make the setting a comfortable one.
Know the best time
Doing homework and daily studies should be fixed for an amount of time. For some working in the afternoon can be ideal and for others working after dinner can be great. So, get to know the best working time for your kid and the amount of time recommended. You can also ask this from his/her class teacher. British international school in Bangkok teachers will help your child with so many obstacles they meet and also help you to understand your child best with regular meetings and workshops. Anyway, it's important that you tell them to have breaks in the middle to refresh their mind.
Praise their efforts
We all like to hear praise for our work and the same applies to your kid as well. You need to praise them and motivate them for their hard work. Tell everyone in your family about how clever he/she is and how smart they are. Motivate them when they feel down and don't ever use harsh words. This might create a negative impact about you on them.
Their talents
Every one of us has our unique talents and so does your kid. Just because he/she is not bright in mathematics it doesn't mean that they are a total failure. Get to know what they are really good at. You can ask about this from the class teacher as well. While you help them to make their learning problems encourage them to mould their talents whether it be sports, community work, music or even art.